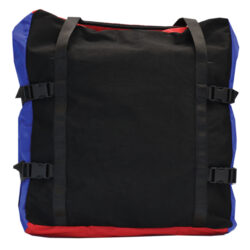 Small transport bag for compact storage of the rescue bag.
For the compact transport of a helicopter rescue bag under a load hook.
The small, compact transport bag is equipped with carrying straps for hanging on the load hook.
Two detachable compression straps allow the pack size to be further reduced.
The rescue bag is folded twice and placed in the transport bag. The bag can be opened quickly and clearly thanks to the all-round, robust zipper.
Made of tear-proof, air and water impermeable special Perlon fabric. With all-round zip and two removable compression straps.
Without shoulder strap system.
Space for:
Helicopter Rescue Bag
RBS
Face Protection Shield
Small Accessories
Width: 500 mm
Height: 550 mm
Depth: 180 mm
Weight: 0,70 kg